BENESOL 4-3-3: THE FOUNDATION OF FERTILIZATION FOR ENHANCED CROP YIELDS
In the world of agriculture, where the quality and quantity of crops are paramount, the choice of fertilizer can make all the difference. For farmers seeking an eco-friendly and effective solution, look no further than organic fertilizer BeneSOL 4-3-3 derived from chicken manure and enhanced by controlled composting. Let's delve into why this fertilizer is the foundation of fertilization for enhanced crop yields.
Soil Health
Healthy soil is the foundation of a productive farm. Organic fertilizers like chicken manure enhance soil structure by increasing organic matter content. This leads to improved water retention, aeration, and nutrient availability, creating an optimal environment for plant roots to thrive.
Natural Balance
Organic fertilizer BeneSOL 4-3-3 is a natural powerhouse. The NPK ratio of 4-3-3 signifies a well-balanced mix of nitrogen (N), phosphorus (P), and potassium (K). Nitrogen stimulates robust vegetative growth, phosphorus supports strong root development, and potassium bolsters overall plant health and disease resistance.
Environmentally Friendly
Opting for organic fertilizer is not just about better yields; it's also about responsible farming. BeneSOL 4-3-3 is free from synthetic chemicals and pollutants, making it safe for the environment and reducing the risk of water contamination.
Sustainable Farming
Sustainable agriculture is crucial for long-term food security. Organic fertilizers support sustainable farming practices by promoting soil health, reducing the need for synthetic inputs, and minimizing soil erosion. By choosing BeneSOL 4-3-3, you're investing in the future of your farm.
Increased Crop Resilience
A well-balanced NPK ratio like 4-3-3 from organic sources ensures that your crops are equipped to withstand various environmental stressors. This leads to increased crop resilience, reducing the likelihood of yield losses due to adverse conditions.
Cost-Effective
BeneSOL 4-3-3 provides a slow-release source of nutrients, reducing the need for frequent reapplication. This translates to cost savings in the long run, as you'll require less fertilizer to achieve optimal crop growth.
Versatility
Whether you're growing grains, fruits, vegetables, or legumes, BeneSOL 4-3-3 is a versatile choice. Its balanced nutrient profile makes it suitable for a wide range of crops, making it a go-to option for diversified farms.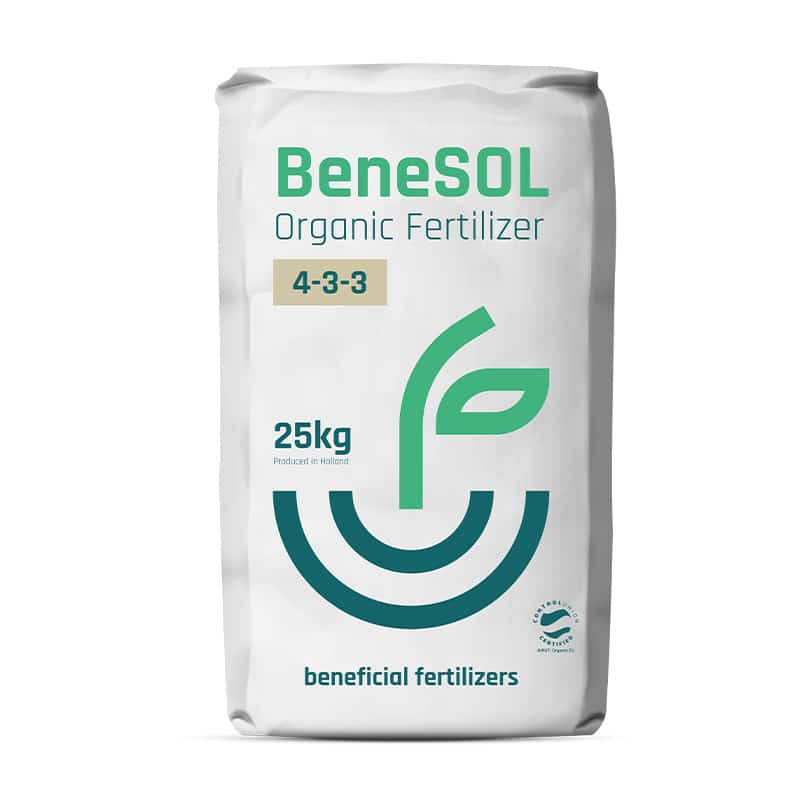 Organic fertilizer BeneSOL 4-3-3 as a foundation fertilizer is a win-win situation for both farmers and the environment. It not only leads to healthier, more abundant crops but also supports sustainable agriculture practices. So make a smart choice for your farm's future by incorporating BeneSOL 4-3-3 as a base fertilizer in your agricultural program. Elevate your crop yields, protect your soil, and contribute to a more sustainable and productive farming landscape with the power of this organic fertilizer.
Click here for more information about BeneSOL 4-3-3.